Maurizio Cattelan at Kunsthaus Bregenz | Austria
2 February – 24 March, 2008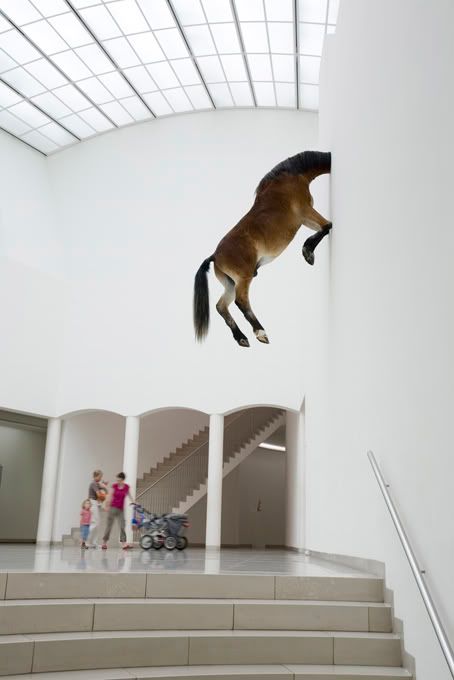 Untitled, 2007
Taxidermic horse
Installation, Museum für Moderne Kunst, Frankfurt am Main
Courtesy of the artist
Photo by: Axel Schneider
© Maurizio Cattelan


Frank and Jamie, 2002
Wax, clothes
Lifesize figures
Jamie: 182 x 63 x 45.5 cm
Frank: 191.5 x 63.5 x 52.5 cm
Photo by: Attilio Maranzano
Courtesy: Marian Goodman Gallery, New York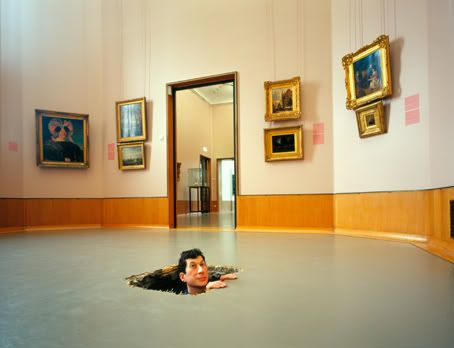 Wax figure, fabric
Figure: 150 cm
Hole: 60 x 40 cm
Installation, Boijmans Museum, Rotterdam
Photo by: Attilio Maranzano
Courtesy: Marian Goodman Gallery, New York
© Maurizio Cattelan


La Nona Ora (The Ninth Hour),1999
Mixed media
Lifesize
Installation, "Apocalypse," Royal Academy, London
Courtesy Galerie Emmanuel Perrotin, Paris
© Maurizio Cattelan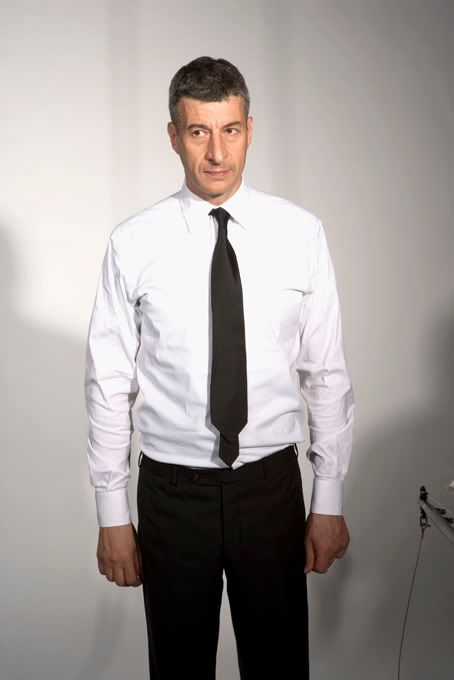 Portrait Photo: Pierpaolo Ferrar
Maurizio Cattelan at Kunsthaus Bregenz | Austria
2 February – 24 March, 2008
The Pope felled by a meteorite as if by the hand of God ("La Nona Ora," 1999), a miniature model of the artist in a Beuysian felt suit, hanging helplessly from a clothes rack ("La Rivoluzione Siamo Noi," 2000), or the artist breaking into the temple of art through the museum floor (Untitled, 2001) – Maurizio Cattelan, in a mixture of Don Camillo, Pinocchio and court jester, always carries his pictorial statements to extremes so that the realistic depiction of well-practiced social and art world conventions tips over into the absurd and ridiculous. Rather theatrical and ephemeral in his actions, objects, and installations, but deploying ironic sophistication and unexpected turns, the artist spares no taboo in unmasking deceitfulness.
Born in 1960 in the North Italian university town of Padua, he started his career in the eighties creating anti-functional design objects before deciding to work in the art world, which, in his own words, he found "much more appealing." Since then, Cattelan has become an internationally renowned artist, even though he would not describe himself as one. However, without contradictions, provocations, and simultaneously existing differing truths, his work would not be what it is. This strategy, together with a visual power which imprints itself onto our memory, has led to the appearance of his actions and sculptures in the most important international art institutions and to participation in numerous significant group exhibitions and biennials.
Since 1993 when Maurizio Cattelan settled in New York, he has alternatingly lived and worked both there and in Milan. Not owning a studio, he works in situ, as exhibitions offer him exactly the challenge needed to "find" new works, which are subsequently fabricated by others rather than being made by the artist himself. In this sense, he really is one of Duchamp's greatgrandchildren. In contrast to Duchamp, however, he does not relate the idea of the readymade to the selecting of found objects which are then declared as artworks, but views experienced reality in its irreconcilable, often absurd contradictions as a large readymade which he quarries for ideas. "We can find a philosophical idea through television, which we watch every day," says Cattelan. He draws upon his own biography and links this to an Italian attitude to life that continually swings from banality to extreme devoutness and holy veneration. And he finds his subjects in the art world's overheated mannerisms and rituals as much as in the social and political fractures of society.
For Cattelan, style means nothing more than a particular artistic attitude that can be translated into different media, linguistic forms, and visual solutions. An artist like him who has made ironic distance the principle of his practice must rely on flexibility, but never on predictable conclusions. If on occasion this does not suffice he is happy to steal other artists' ideas or even a whole exhibition. Such was the case with a project done for de Appel Gallery in Amsterdam.
Maurizio Cattelan is a storyteller. Storytellers do not carry out revolutions, but they may inspire them. Each image that he generates through his actions and sculptures resembles a shared membrane between his and our emotions. In
this, Cattelan really relies on an intensive working process of condensing and refining the ideas, the outcome of which is always an "image" full of narrative inventions. Why for example are the hands of the child in "Charlie Don't Surf"
(1997) nailed to the table with pencils? Cattelan loves these little stories, which emerge from within deeper levels of the work. They make the work lively and are triggers for individual stories, which vary from viewer to viewer.
Despite all the variety of ideas and works, there are two founding principles in his oeuvre. Maurizio Cattelan differentiates between works which function as an idea or project, such as the footballers' memorial wall in London on which the results of all the England team's lost games are engraved or the figure with a Picasso mask which greets visitors at the entrance to MoMA in New York, and those works which are transformed into highly memorable images. Within this category fall such works as "Novecento" from 1997, which shows a horse hanging from the ceiling, or "Him" (2001) with Hitler as
a boy kneeling repentantly.
In his work, which in equal measure encompasses both humor and humility, it is this tragic but comical keynote that evokes strong, but sometimes also oppressive emotions in us, especially when Cattelan, in all his diversity, repeatedly centers on death as his central motif. In this the artist is very close to his ancestral and national roots. According to Francesco Bonami, death is "the very last moment of pathetic intimacy, the most radical way to avoid public responsibility."
Death is also the major subject of the exhibition at Kunsthaus Bregenz. For the first time, Maurizio Cattelan has allowed a total architectural installation to be part of his work. By making very few spatial interventions and with three groups of work especially created for Bregenz, he changes the building into a burial chamber, which transforms the building's auratic potential into a borderland between disquieting anxiety and ironic distance.
As usual, Cattelan does not want to disclose too much about his exhibition in advance. Yet, he wants his work to be located somewhere between "softness and perversity," he says: "It should be tender, comforting and seductive and yet corrupted, twisted and consumed."
Opening: Friday, February 1, 2008, 8.00 p.m., Kunsthaus Bregenz
Karl-Tizian-Platz
Postfach 371
A-6901 Bregenz